If you're a dog owner, you're likely no stranger to the challenge of taking your furry friend for a walk. The constant pulling, tugging, and yanking on the leash can turn a pleasant stroll into a tug-of-war. This daily struggle can take a toll on your patience, your dog's comfort, and even your bond. Fortunately, there's a solution that can transform your walks into enjoyable outings for both you and your four-legged companion – the easy walk harness.
Chest Strap: What Is an Easy Walk Harness?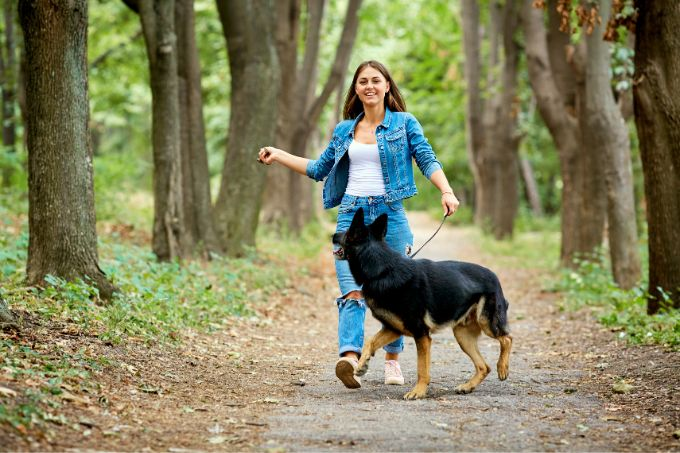 The easy walk harness is a specially designed dog harness that is gaining popularity among pet owners. Unlike many other harnesses, traditional collars or back-clip harnesses, this innovative gear is engineered to prevent your dog from pulling excessively during walks. It works by redirecting the pulling force towards the side of this harness, discouraging your dog from pulling and allowing you to regain control.
How Does an Easy Walk Harness Work on your Dog's Chest?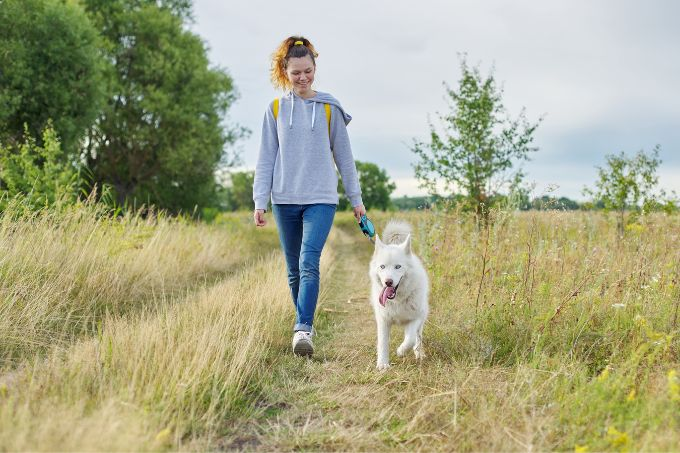 When it comes to walking your dog, the right equipment can make all the difference. The easy walk harness is a revolutionary tool designed to prevent dogs from pulling excessively during walks. But how does it work, and what makes it so effective? Let's take a closer look at how the easy walk harness operates to transform your dog's walking experience.
The Mechanics of the Easy Walk Harness
The easy walk harness is ingeniously designed to address the problem of excessive pulling by dogs. It operates on a straightforward yet highly effective principle. The harness features a front chest strap that attaches via clip to the leash, allowing you to gently guide and steer your dog from the chest area. . This harness is a stark contrast to traditional collars or back-clip harnesses, which often encourage pulling behavior.
Here's how it works:
Redirected Pulling
When your dog tries to pull ahead while wearing the easy walk harness, the harness redistributes the pulling force that pulls from their neck or throat area to their belly or chest. This redirection of pull also causes your dog to turn towards you, rather than forging ahead, effectively eliminating the incentive to pull.
Comfortable and Safe
The design of the easy walk harness ensures that the pressure of standard collar is distributed evenly across your dog's chest. This minimizes the risk of injury, such as neck strain or choking, which can occur with traditional collars.
Control and Balance
By providing you with better control over your dog's movements, the harness enables you to guide your dog more effectively during walks. This improved control makes walks safer for pets for both you and pets for your furry friend.
Preventing Reinforcement of Pulling
Unlike some other harnesses that inadvertently reinforce puppy pulling behaviors, the easy walk harness discourages pulling. Dogs quickly learn that pulling does not lead to them getting where they want to go, making for a more pleasant and controlled walking experience for puppies.
The Design and Materials
The effectiveness of the easy walk harness is also attributed to its design and materials. It typically consists of adjustable straps that secure around your dog's chest and shoulders. The straps are made from durable, comfortable materials that do not chafe or cause discomfort. They are designed to distribute pressure evenly, ensuring that your dog can move freely without feeling restricted.
The leash attachment point, located at the front of the widest part of the harness, allows for smooth and gentle steering. When your dog pulls, the harness gently guides them back towards you. This design of this harness is user-friendly and, more importantly, dog-friendly, making it a preferred choice for many pet owners.
Belly Strap: Benefits of Using an Easy Walk Harness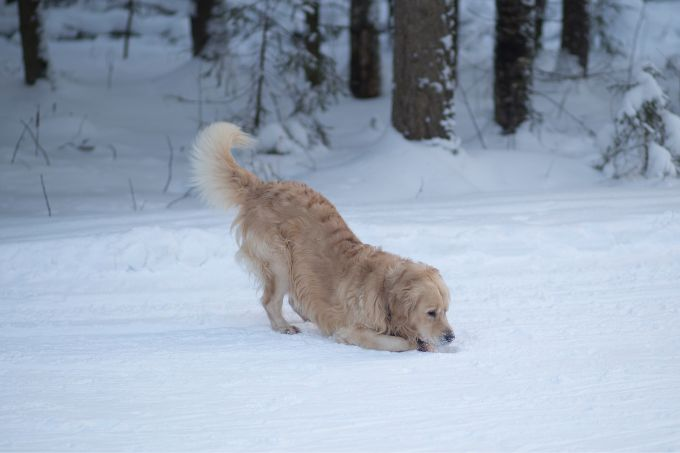 If you're tired of the constant pulling and tugging during your dog walks, it's time to explore the numerous benefits of using an easy walk harness. This innovative piece of pet gear is designed to make your walking experience more enjoyable and less strenuous. Let's delve into the advantages of incorporating an easy walk dog harness into your daily routine.
1. Enhanced Walking Experience
The primary benefit of using an easy walk harness is the immediate improvement in your walking experience. Say goodbye to the days of strained arms, sore shoulders, and feeling like your dog is taking you for a ride. With this easy walks harness, you'll regain control, making each walk more enjoyable and leisurely.
2. Improved Leash Etiquette
For those pet parents who have puppies or dogs that are new to walking on a leash, the easy walk harness is a fantastic training tool. It encourages proper leash etiquette by discouraging your dog from pulling. As your dog has better leash manners and learns to walk without pulling, your dogs' walks become smoother and safer.
3. Reduced Risk of Neck Injuries
Traditional collars can place pressure on your dog's neck and throat, potentially leading to injuries or discomfort. The easy walk harness eliminates this risk by distributing the pressure evenly across your dog's chest and shoulders. This reduces the strain on sensitive areas and minimizes the chances of injury.
4. Comfort and Safety
The materials used in the easy walk harness are carefully chosen to provide comfort and safety for your dog. Additionally, they are designed to be non-chafing and gentle on your dog pup's skin. Furthermore, this ensures that your dog pup can move freely without any discomfort or irritation.
Choosing the Right Size and Fit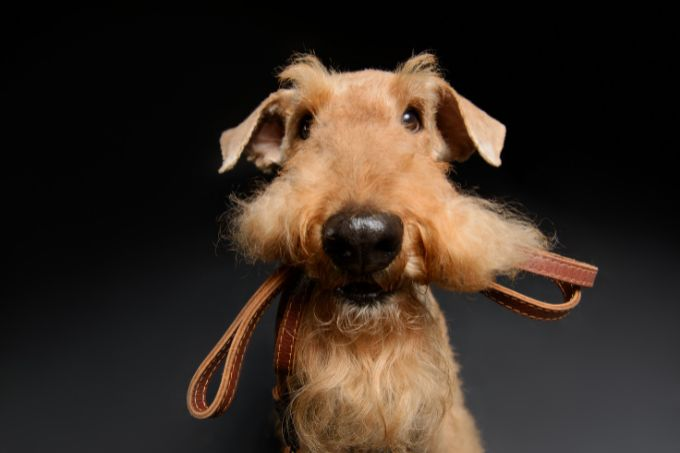 Selecting the right size and ensuring a snug and comfortable fit for your easy walk harness is a critical step in optimizing your dog's walking experience. Additionally, an ill-fitting harness can lead to discomfort and inefficacy, defeating the purpose of this innovative walking tool. Let's explore the steps to a perfect fit to ensure your dog's harness fits just right.
1. Measure Your Dog's Girth
To begin, you'll need to measure your dog's girth, which is the circumference and widest part of their chest just behind the front legs. Additionally, use a soft measuring tape to measure it, and make sure it's snug but not too tight. Furthermore, if you don't have a measuring tape, a piece of string can suffice, which you can then measure against a ruler.
2. Consult the Manufacturer's Sizing Guide
Once you have the girth strap measurement, consult the manufacturer's sizing guide that accompanies the easy walk harness. Additionally, manufacturers usually provide a size chart that correlates girth measurements with the appropriate harness size. Furthermore, each manufacturer may have slight variations in sizing, so it's essential to refer to the specific guide for your harness.
3. Consider Adjustability
Many easy walk harnesses offer adjustable straps that allow you to fine-tune the perfect girth fit yourself. Additionally, when you've selected the right size based on the girth measurement, make sure the harness has adjustable straps for further customization. Furthermore, this adjustability ensures that you can achieve a snug girth fit that is comfortable for your dog.
4. Fitting the Harness
To fit the harness properly, follow these steps:
Undo all the buckles and straps on the belly strap and the shoulder harness.
Have your dog step into the harness, with the leash and front leash and chest strap between their front legs.
Secure the chest strap first, making sure it the strap sits snugly but not too tight. You should be able to comfortably slide two fingers underneath and pull the strap.
Adjust the shoulder and belly straps to ensure a secure but comfortable fit. Again, use the two-finger rule to gauge tightness. The belly straps should be snug enough to prevent your dog from slipping out but not so tight that they cause discomfort.
Safety Considerations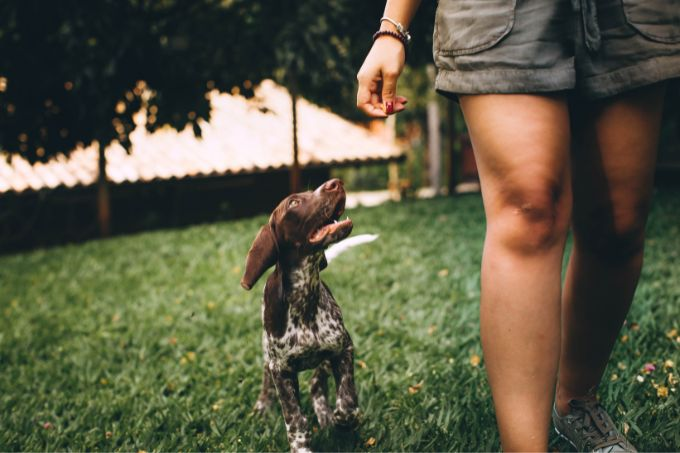 The easy walk harness is undoubtedly a valuable tool for enjoyable and controlled dog walks, but like any pet accessory, it of course comes with safety considerations. To ensure the well-being of your furry friend and a worry-free walking experience, here are some essential safety tips when training and using pets with the easy walk harness.
1. The Easy Walk Harness: Proper Fit and Adjustment
We've already discussed the importance of selecting the right size and achieving a snug fit for your dog's easy walk harness. Additionally, proper fit is not only about comfort but also about safety. Furthermore, a harness that is too loose could allow your dog to slip out, while one that is too tight may cause discomfort or chafing. Regularly check the fit of best harness and make adjustments as needed to ensure it remains secure and comfortable.
2. The Easy Walk Harness: Supervision
It's essential to supervise your dog when they are wearing the harness. Additionally, never leave your dog unattended while wearing the harness rests without it, especially if they are not yet accustomed to the harness. Furthermore, dogs may attempt to chew or scratch the harness, which could potentially damage it or create safety hazards.
3. The Easy Walk Harness: Prevent Chewing
Some dogs are prone to chewing on their harnesses, particularly when they're first introduced to them. Additionally, chewing can compromise the harness's integrity and safety. To prevent this, consider using a deterrent spray designed to deter dogs from chewing or consult with your veterinarian for advice on behavior modification.
4. The Easy Walk Harness: Regular Inspections
Make it a habit to inspect the harness regularly for any signs of wear and tear. Check the straps, buckles, and seams for damage or weakening. If you notice any issues, it's crucial to replace the harness promptly to avoid potential safety risks.
Why Regal Is The Best Choice for Dog Collars and Harnesses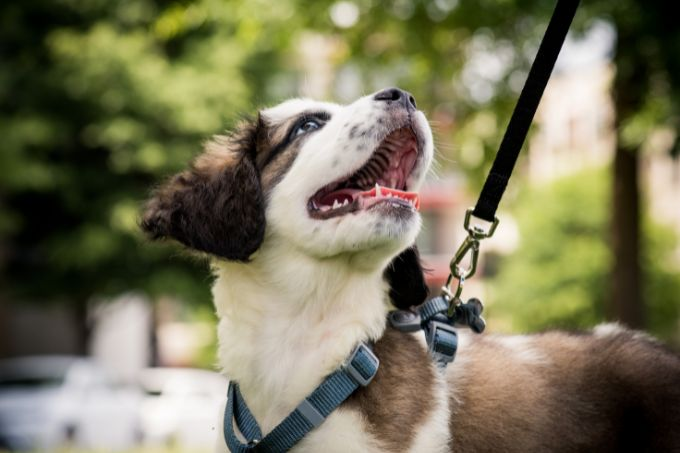 When it comes to choosing the best dog collars and harnesses, one name stands out among the competition – Regal. Regal has earned a stellar reputation for its unwavering commitment to providing the highest quality, comfort, and safety for your beloved canine companions. Let's explore why Regal is the best choice for dog collars and harnesses.
1. The Easy Walk Harness: Superior Craftsmanship
Regal takes pride in its meticulous craftsmanship. Each dog collar and harness is crafted with precision and care. The materials used are of the finest quality, ensuring that every product is not only durable but also comfortable for your dog. This level of craftsmanship guarantees that you're investing in a product that will stand the test of time.
2. The Easy Walk Harness: Exceptional Comfort
Comfort is a top priority at Regal. They feature soft and breathable materials that won't chafe or irritate your dog's skin. This ensures that your dog can wear their collar or harness for extended periods without discomfort, making walks, playtime, and everyday activities more enjoyable.
3. The Easy Walk Harness: Wide Range of Styles
Regal understands that every dog is unique, and so are their owners' preferences. That's why they offer a vast array of styles, colors, and patterns to choose from. Whether you're looking for a classic and elegant collar or a harness that complements different color and your dog's personality, Regal has you covered. With a diverse range of options, you can find the perfect accessory to suit your dog's individuality.
Purchase a Regal Dog Collar Now!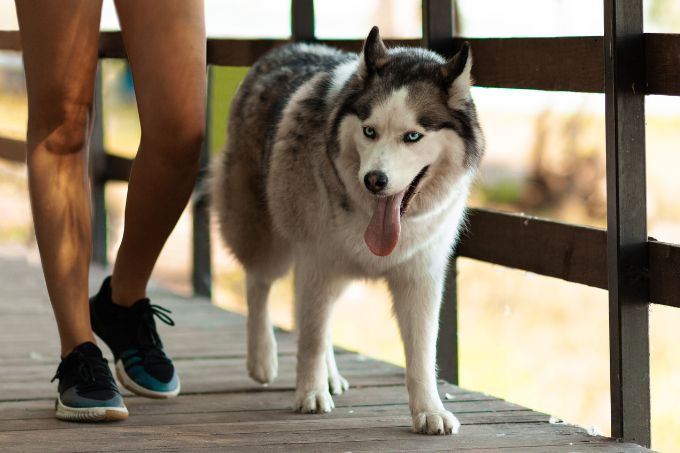 In conclusion, Regal's commitment to quality, comfort, and safety places them at the forefront of the dog collar and dog harness' market. Their products offer superior craftsmanship, exceptional comfort, a wide range of styles, safety features, custom fit options, and long-lasting durability. With Regal, you're not only choosing a dog collar or dog harness'; you're choosing the very best for your furry friend.